Sitting atop the golden granite township of Beechworth, amongst stunning gardens, is Mayday Hills, a decommissioned asylum dating back to 1867. The old maintenance workshop of the asylum has been cleared of wood lathes and blacksmithing furnaces, and is now where Fighting Gully Road wines are made.
This is a collaborative space, shared with friend and fellow winemaker, Adrian (A.) Rodda. Adrian and Mark have been sharing a workspace for ten years. It began in a little winery at Smiths vineyard, then newly-leased by Mark, where the two progressed from pressing 10 tonnes of fruit in year one to 125 tonnes in year two. In search for a little more room to move, Mark and Adrian moved the winery to a spacious old apple store in the neighbouring township of Stanley, only a ten minute drive away, but an additional 300m above sea level. After two vintages of having their fermenting reds get so cold that they would stop work (fermenting) and require reinoculation, luck so happened that the eclectic Mayday Hills maintenance workshop appeared.
The maintenance workshop space may have contributed a little of its own spirit of experimentation and perseverance to the winery. The four vintages that have been produced here have seen the first Sangiovese trials, experimentation with wild and indigenous yeasts, and perfection of barrel ageing techniques in unexpected varietals.
Everything about the potential of the wine is there in the grapes, which Mark oversees. And then in the winery, he expertly captures what has been brought through the door.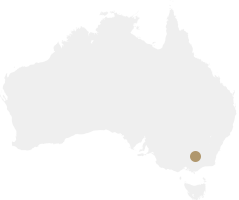 Winery Location
Beechworth, Victoria, Australia
The township of Beechworth is built on golden granite hillsides, leading to the Victorian alps. Clear water and fresh air is abundant; producers plentiful and passionate. Fighting Gully Road is a proud member of the winemaking community here.