Fighting Gully Road
Our Vineyard
At an elevation of 530 – 580m above sea level, Fighting Gully Road is a cool, breeze-blown site. It's steady slopes rise to the top of the escarpment that overlooks the fertile Murmungee basin, south of Beechworth.
In 1995, when we purchased the farm, these slopes were covered in scrub, stumps and many thousands of rabbits. There was hard work ahead, but also plenty of potential.
The first vines were planted at the Fighting Gully Road vineyard site in 1997 – Cabernet Sauvignon and a small plot of Merlot on the north and west-facing slopes, followed by Pinot No​ir on the upper and east-facing slopes in the following year. Over subsequent years, small areas have been reworked to Tempranillo, Shiraz and Sangiovese.
The vineyard​ receives around 850mm rainfall per year, and is characterised by prevailing winds from the north-west. During the growing season these breezes have lower levels of humidity, ensuring that the vines have restrained vegetative growth and remain disease free. Days are cool but the slopes surrounding the vineyard ensure cold night air drains away, so only the very lowest reaches of the vineyard are susceptible to spring frost.
In 2009 the opportunity arose to lease the Smith vineyard, located only a few minutes away from the Fighting Gully Road site. Planted to Chardonnay and Cabernet Sauvignon in 1978, this small vineyard is the oldest remaining vineyard in the region. In the vintage of 2010, we made our first Beechworth Chardonnay out of the Smith vineyard, released in 2011 under the Fighting Gully Road label.
Vineyard Location
Beechworth, Victoria, Australia
The mineral rich hills around Beechworth are home to more than two dozen vineyards that are tended by winegrowing families with a fierce independence and a passion for making the very best artisan wines.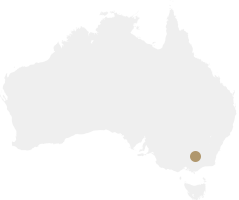 An Eagle's View
Our Vineyard